DCPP

Disease Control Priorities Project
The Disease Control Priorities Project (DCPP) is an ongoing project that aims to determine priorities for disease control across the world, particularly in low-income countries.[1]
See also: Disease Control Priorities Network (DCPN), Universal Health Coverage (UHC), Sustainable Development Goals (SDG)
Disease Control Priorities (DCP) in Developing Countries
DCP1: The first edition of Disease Control Priorities in Developing Countries, published in 1993.
DCP2: The second edition of Disease Control Priorities in Developing Countries, published in 2006.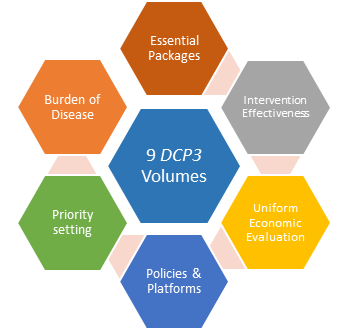 DCP3: For the third edition, published between 2015 and 2018, the name of the report was shortened to Disease Control Priorities. This edition provides a review of evidence on cost-effective interventions to address the burden of disease in low- and middle-income countries (LMICs).
The nine volumes in DCP3 are as follows:
Essential Surgery
Reproductive, Maternal, Newborn, and Child Health
Cancer
Mental, Neurological, and Substance Use Disorders
Cardiovascular, Respiratory and Related Disorders
Major Infectious Diseases
Injury Prevention and Environmental Health
Child & Adolescent Development
Disease Control Priorities (summary volume)
Some health services may be considered essential. The World Bank Group (WBG), building on the two first editions established originally by the Disease Control Priorities Project (DCPP), published in this third edition of the Disease Control Priorities (DCP3) an evaluation of interventions to cost-effectively address the burden of disease in low-income countries (LIC) and lower-middle income countries (LMIC).[2]
Unique interventions as part of Essential Universal Health Coverage (EUHC) should be mapped to platform of delivery, and DCP3 suggests the following terminology for grouping of such EUHC interventions:[3]
Unique interventions in Essential Universal Health Coverage grouped by platform
Population-based health interventions: Non-personal or population-based health services, such as mass media and social marketing of educational messages, as typically delivered by public health agencies.
Community services: Efforts to bring health care services to clients, meeting people where they live. It includes a wide variety of delivery mechanisms. Specific sub-platforms include the following:
Health outreach and campaigns (such as vaccination campaigns, mass deworming, and face-to-face health information, education, and communication)
Schools (including school health days)
Community health workers, who may be based primarily in the community but also connected to first-level care providers, with ties to the rest of the system.
Health centres (two types of facility):
A higher-capacity health facility staffed by a physician or clinical officer and often a midwife to provide basic medical care, minor surgery, family planning and pregnancy services, and safe childbirth for uncomplicated deliveries.
A lower-capacity facility (e.g., health clinics, pharmacies, dental offices) staffed primarily by a nurse or mid-level health care provider, providing services in less-resourced and often more remote settings.
First-level hospitals: A facility with the capacity to perform surgery and provide inpatient care. This includes outpatient specialist care and routine pathology services that cannot be feasibly delivered at lower levels, such as newborn screening.
Referral and specialized (second- and third-level) hospitals: General and specialist hospitals that provide secondary and tertiary services.
Table:
Suggested standard typology for defining delivery platforms for essential
UHC
in DCP3.[
3
]